Custom Printed Deli Paper at Game Day!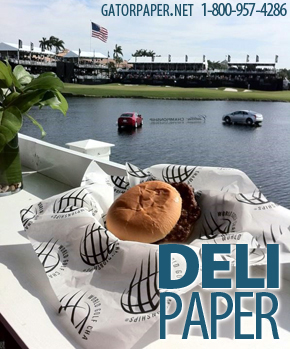 Check out the new Gator Paper's dry wax deli paper. This new paper is feather-light and the perfect food service paper sheet for lining all types of food baskets, food cups, or simply use as food wrapping paper.
For those food cups with slits in the bottom this dry wax deli paper is an excellent resource for reinforcing food cups. Our custom deli paper is dry wax coated and will not come apart when wet. So you know it's going to hold up whether you serve hot or cold foods!
Our durable custom printed deli paper is made with a dry wax texture which makes this deli paper the perfect sheet for any type of food service projects. What's even better is our deli paper can be customized to display logos for restaurants, food companies and food service trucks.
What an awesome feature! This will reinforce your company's image while ensuring your food is perfectly wrapped and protected. So whether you are wrapping sandwiches, deli wraps, burgers, tacos or lining a basket of French fries, our custom deli paper will handle your food with strength and style.
Do you have game day parties? Who doesn't! Order our custom printed deli wax paper printed with the logo of your favorite sports team. Your food will be the talk of the town with this custom printed deli paper lining your food trays and wrapping your game day meals.
Do you tailgate? Never leave home without the custom printed deli wax paper. Your tailgating flare will show everyone else the extra team spirit they are missing! Wrap up hotdogs and hamburgers, French fries or sandwiches with our durable deli paper while cheering your favorite team. Way to show your team pride!
Custom Printed Deli Paper:
Available to Order Now


MEDIA CONTACT: Chris Novak
Phone: 1-800-957-4286 (or) info@GatorPaper.net
www.GatorPaper.net

About Gator Paper:
Gator Paper is the #1 source for all your custom printed Food Service needs. Specializing in custom printed Sandwich Paper, Deli Paper, Butcher Paper, Hot Paper, Eco Kraft Paper, Cups, To Go Bags, Napkins, TO GO Boxes, Paper Food Boats and more. We offer the lowest minimums in the country on all of our custom printed products.
Gator Paper can help you develop your "brand" design or advertising concepts into custom packaging reality. From concept to delivery, Gator Paper is the short run custom printed food product leader. Take advantage of this powerful form of brand identification without breaking the bank! www.GatorPaper.net