Custom Printed Butcher Paper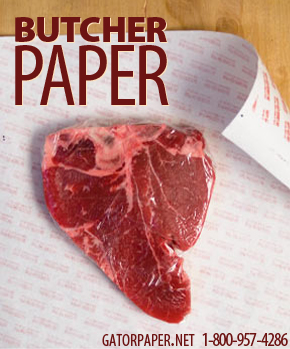 Our custom printed butcher paper is a timeless product for all food presentation needs. This classic bleached white butcher gives a great food presentation while holding up against all your food service needs. The paper is a medium weight, uncoated butcher paper which can be used for daily use for a multitude of food items.
This sheet is durable and can be used in butcher shops, grocery stores, and foods stands serving both dry and moist products.
When promoting your business it's ideal to display the brand logo on the paper you serve your pristine cuts of meat. The custom printed butcher paper will bring your patrons back time and time again for quality wrapped foods in our one-of-a –kind butcher paper.
Our style of the classic bleached white butcher paper will exceed all expectations. This butcher paper is the perfect accent to serving the foods that will exceed the expectations of your customers. Whether you serve raw meats, jerky or maybe cookies, pastries and breads our custom printed butcher paper will give a classic wrapping paper look to your quality creations.
Wrap your raw meats in a classic look, the butcher's way.
Custom Printed Cushion Butcher Paper
Holds in juices without leakage and retains freshness!
Order our custom printed butcher paper in cases or rolls to fit your storage needs. Minimum order of 3 cases of 3,000 sheets or 5 rolls for 750 feet per roll. Most orders ship within 6-8 weeks but express ordering is available upon request. Call us today and start making your life easier with our custom printed butcher paper to serve all your food needs.


MEDIA CONTACT: Chris Novak
Phone: 1-800-957-4286 (or) info@GatorPaper.net
www.GatorPaper.net
About Gator Paper:
Gator Paper is the #1 source for all your custom printed Food Service needs. Specializing in custom printed Sandwich Paper, Deli Paper, Butcher Paper, Hot Paper, Eco Kraft Paper, Cups, To Go Bags, Napkins, TO GO Boxes, Paper Food Boats and more. We offer the lowest minimums in the country on all of our custom printed products.
Gator Paper can help you develop your "brand" design or advertising concepts into custom packaging reality. From concept to delivery, Gator Paper is the short run custom printed food product leader. Take advantage of this powerful form of brand identification without breaking the bank! www.GatorPaper.net