Questions about Custom Printed Packaging? Call: 800.957.4286
Custom Printed Take Out Boxes – To Go Boxes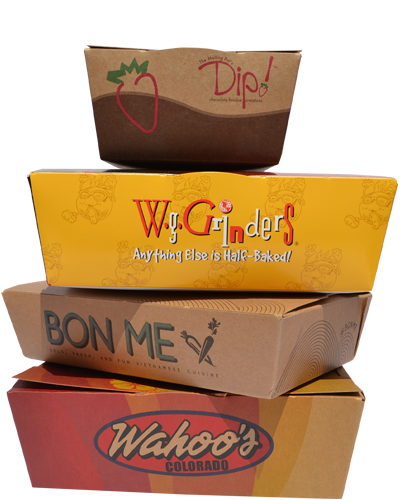 Whether you're looking to buy food containers, to go containers, or take out boxes, our custom printed Take Out Box is a powerful vehicle for taking your brand's message directly into the home of your consumer.
You'll be pleased with our high quality 4-color process printing, which ensures your logo design looks stunning on every single Take Out Box that ends up in your customer's hands.
Don't settle for anything less than rigorous print quality, a great price point, and full coverage printing on all of our food packaging containers.
While plain Take Out Boxes might be cheaper, they offer less value to your business and zero return on your investment. Custom Printed Take Out Boxes create an opportunity to contribute to your larger marketing goals and strengthen your brand.
Available in white & black coated and brown uncoated Kraft
Great for in-game service or take home orders!
Our Take Out Boxes come pre assembled and ready to use!
LEAD TIME: 8-10 weeks
No rush orders.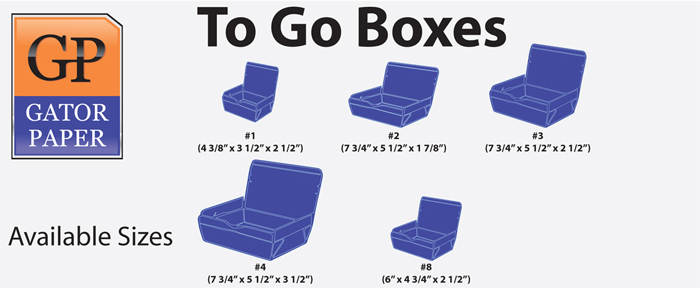 Custom printed Take Out Boxes are the perfect way to help extend your branded message outside the box!
Can I really order custom printed To Go Boxes without having to fill a trailer for each order?
Absolutely! Our custom printed Take Out Boxes have a very low 6,000 piece minimum order requirement. Our ability to deliver short run orders will eliminate your need for significant storage space, reduce your out of pocket expenses, and let you make the best impression possible to your customers. Win!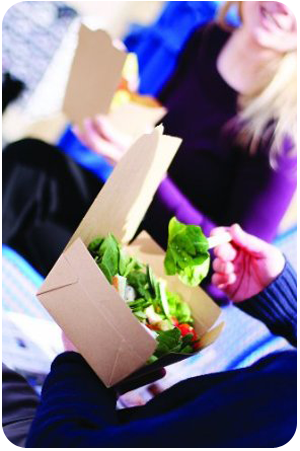 What is the lead time for custom printed Take Out Boxes?
The current lead time for all custom printed Take Out Box orders is 8-10 weeks from artwork approval date. No rush orders.
What are my Take Out Box size options?
We offer 5 different Take Out Boxes for all project sizes. These boxes are great for packaging single food products to entire meals. We are confident that one of our Take Out Box sizes will fit your needs. Check out our size chart for more information: SIZE CHART
Is four-color process printing available for Take Out Boxes?
YES! Our custom printed Take Out Boxes can be print in full coverage with 4 color process printing. This makes for a great finished product that you can be proud to send home with your customers.
How creative can I get with my take out containers artwork?
Sky is the limit! You can submit your own design by filling in one of our templates or, for an additional fee, you can team up with one of our talented designers who will work closely with you to come up with a creative solution to packaging design.
---
Need a price quote on Custom Printed Take Out Boxes – To Go Boxes? Contact us today!
Call 800-957-4286 or submit a Contact Form for prompt reply.

Let Gator Paper help your business "TAKE A BITE OUT OF THE COMPETITION!"
In need of a single serve Take Out Boxes that can be printed with four-color process, full coverage printing?
Then look no further than our custom printed Fold Top Boxes.