Questions about Custom Printed Packaging? Call: 800.957.4286
Custom Printed Freezer Paper (Sheets & Rolls)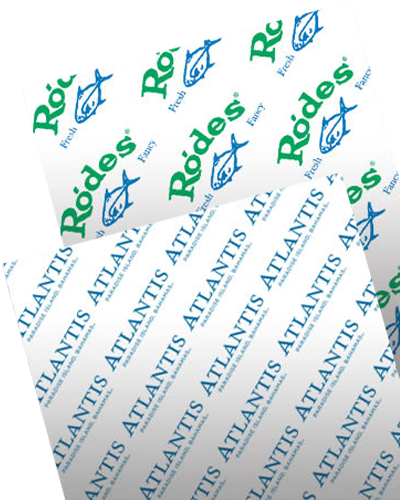 Stop wondering where to buy Freezer Paper because you have arrived. Look no further than our custom printed Freezer Paper. It protects food in the freezer for up to 1 year! Our Freezer Paper sheet is strong enough to protect your food in the coldest of food storage conditions? A great selection for commercial freezer paper!
This heavyweight freezer wrap paper sheet has a thick poly coating that helps protect against freezer burn and keeps your wrapped meats and fish fresh.
Superior wet strength!
Perfect for wrapping meats and fish
Protects food stored in the freezer for up to 1 year
Available in freezer paper sheets or freezer paper roll
Keeps food protected in the freezer
Custom printed Freezer Paper is the strongest food service sheet on the market today!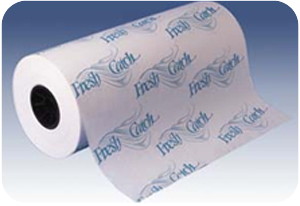 What is the lead time for custom printed Freezer Paper orders?
Standard lead times for all custom printed Freezer Paper orders is 6-8 weeks. Rush orders are available for an additional fee when the production schedule allows. Transit time is typically 2-4 days for the East coast, and 5-7 days for the West coast.
Am I restricted to a small list of standard Freezer Paper sheet sizes?
No! While we do offer a list of standard Freezer Paper sheet sizes to help keep your overall project costs down, we can also custom cut your sheet size to any desired width and length needed to fit your application.
Can I get two colors for the price of one?
If you have more than one shade of a specific PMS color in your logo then YES! We have the ability to add 1 or 2 screens to your print if the colors in your logo allows for it. Our talented design team will provide all the help necessary to solve any artwork challenge.
What kind of artwork is required?
All artwork submitted must be a Vector art file. Adobe Illustrator, .EPS and high resolution PDF files are preferred. If the line artwork is simple enough, sometimes a JPEG file will work. Bitmap images are not good enough quality for proof or plate making, and are not accepted.
---
Need a price quote on custom printed Freezer Paper? Contact us today!
Call 800-957-4286 or submit a Contact Form for prompt reply.

Let Gator Paper help your business "TAKE A BITE OUT OF THE COMPETITION!"
Looking for a unique food service sheet unlike all the rest? Then check out our custom printed Golden Rod Paper.
Your brand will feel like it has hit the gold mine when you print your logo on this unique food service sheet!