Questions about Custom Printed Packaging? Call: 800.957.4286
Custom Printed Hot Dog Bags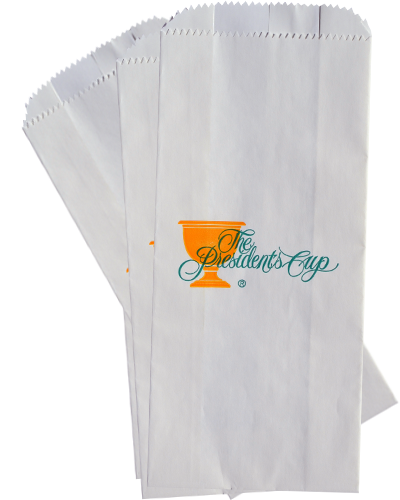 Custom printed Hot Dog Bags are the perfect way to package America's #1 sports stadium treat! When it comes to hot dog wrappers, or hot dog paper holders, there is nothing better than hot dog bags. We all know how messy hot dogs can be, so keep it all in one place with a hot dog bag.
These coated paper bags help seal in the heat and moisture to keep your hot dogs tasting fresh well after they have been packaged for sale.
Custom printed Hot Dog Bags look great for any occasion! With a five case minimum order, how can you go wrong?
Sizes: ¼#, ½#, 1# LINK TO SIZE CHART
30# -35# outside bag, 25# glassine lining
3 color spot PMS printing on hot dog sleeves
LEAD TIME: 4-6 weeks
No rush orders.
MINIMUM ORDER: 5,000 – 30,000 depending on the size.
Minimum order requirement starting at 25K.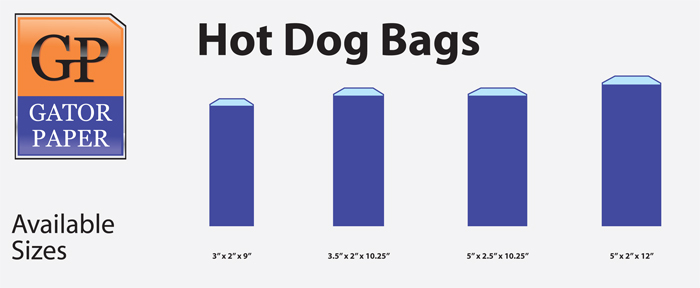 Custom Printed Hot Dog Bags will make your food service project that more attractive!
How many custom printed Hot Dog Bags do I need to buy?
5,000 – 30,000 bags is the minimum order requirement for our custom printed Hot Dog Bags.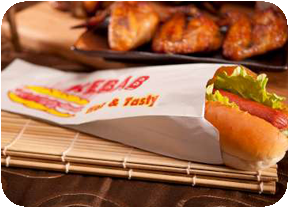 What is the lead time for custom printed Hot Dog Bags?
Standard lead time for all custom printed Hot Dog Bags 4-6 weeks.
What are your printing capabilities?
Hot Dog Bags can be printed up to 3 spot PMS colors with registered or full coverage printing available. Custom cut sizes are also available.
What kind of artwork is required??
Vector art files are preferred. Adobe Illustrator, .EPS and high resolution PDF files work the best. If the line artwork is simple enough, sometimes a JPEG file will work; however, Bitmap images are not good enough quality for proof or plate making, and are not accepted.
---
Need a price quote on Custom Printed Hot Dog Bags? Contact us today!
Call 800-957-4286 or submit a Contact Form for prompt reply.

Let Gator Paper help your business "TAKE A BITE OUT OF THE COMPETITION!"
Need a versatile food service bag for take home orders? Check out our line of custom printed Shopping Bags!