Questions about Custom Printed Packaging? Call: 800.957.4286
Custom Printed Cushion Foil (Sheets & Rolls)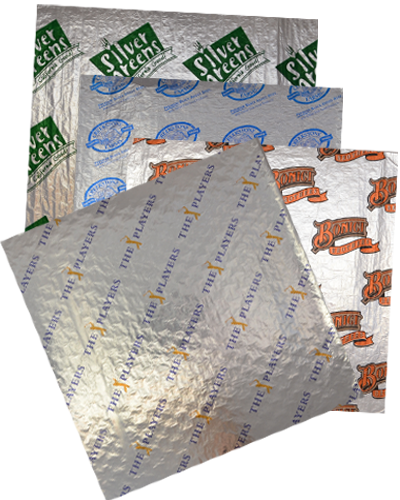 Cushion Foil is the Cadillac of food wraps. This two-part insulated food service sheet will exceed all your expectations when it comes to heat retention and ability to hold a folded crease. You can't go wrong with this foil wrapping paper.
Cushion foil is great for wrapping hot dogs and hamburgers. It will keep wrapped food warm and moist in a warming drawer or under a heating lamp for an extended period of time.
Superior heat retention is achieved by air pockets created by the Honeycomb design
Absorbs moisture
Capable of holding a folded crease and takes the shape of wrapped foods
Available in Foil Paper sheets
This heavyweight sheet can take your branding image to the next level!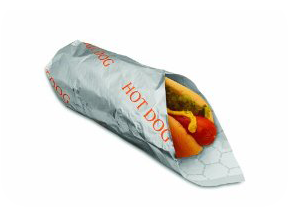 What is the lead time for custom printed Cushion Foil paper orders?
Standard lead times for all custom printed Cushion Foil orders is 6-8 weeks. Rush orders are available for an additional fee when the production schedule allows. Transit time is typically 2-4 days for the East coast and 5-7 days for the West coast.
How do I decide between standard sheet size versus custom sheet size for Cushion Foil?
Cushion Foil paper sheets are available in a standard list of sheet sizes that will help keep your overall project cost down.
What are your printing capabilities?
Cushion Foil can be printed with up to 3 spot PMS colors. Our design team will review your art file and determine what colors are able to be printed. We can match any PMS color on the chart.
What kind of artwork is required?
All artwork submitted must be a Vector art file. Adobe Illustrator, .EPS and high resolution PDF files are preferred. If the line artwork is simple enough, sometimes a JPEG file will work. Bitmap images are not good enough quality for proof or plate making, and are not accepted.
---
Need a price quote on custom printed Cushion Foil? Contact us today!
Call 800-957-4286 or submit a Contact Form for prompt reply.

Let Gator Paper help your business "TAKE A BITE OUT OF THE COMPETITION!"
Looking for an eco-friendly alternative to cushion foil? Check out our Industry Exclusive custom printed Hot Paper sheet.
Hot Paper is microwave and oven safe with no delaminating. Three case minimum for custom printed orders.