Questions about Custom Printed Packaging? Call: 800.957.4286
Custom Printed Coated Kraft Paper (Sheets & Rolls)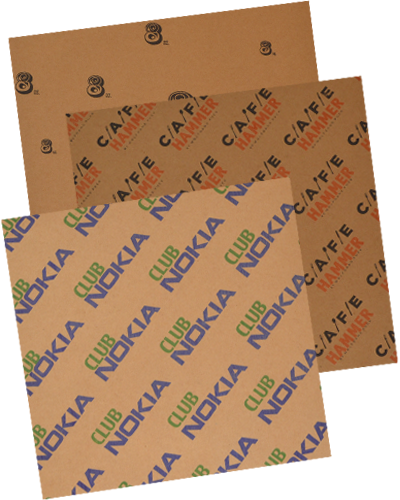 Our poly coated brown Kraft Paper is the king of the hill. This heavyweight brown Kraft paper sheet has a poly coated side that provides it with the most "wet strength" possible. It is great for wrapping greasy sandwiches, meats, seafood, dairy products and more. Look no further if you're wondering where to buy Kraft paper, this brown wrapping paper is the right choice.
Coated Kraft brown paper is great for high end food presentation too. This custom printed food service sheet shows your customers you know how to take food presentation to a whole new level!
Eco-friendly food service sheet
Great for food presentation!
Tremendous wet strength and food service versatility
Available in brown Kraft paper roll or Kraft Paper sheets
In the world of custom printed food service papers, Coated Kraft Paper is KING!
What do you mean by short-run?
Our ability to deliver short run orders will reduce your storage space needs and allow you to better control your product inventory.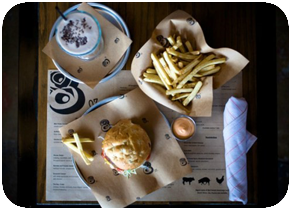 How can your lead time be 6-8 weeks when everyone else is 10-12 weeks?
Because they are slow and inefficient! Our goal is to get your printed order delivered as quickly as possible. We work tirelessly to make sure our customer deadlines are met. The quality of our product will keep you coming back for more. If you need your order in a hurry, ask one of our sales team members about our Rush Order program.
Am I restricted to a small list of standard sheet sizes?
No! While we do offer a list of standard sheet sizes to help keep your overall project costs down, we can also custom cut your sheet size to any desired width and length needed to fit your application.
Is four-color process printing available for food wraps and basket liners?
We are currently limited to 2 spot PMS colors on all our short run food service sheets. Sometimes, we can add 1 or 2 screens to your print if the colors in your logo allow us to use them. Three & four color prints are available for most of our food service paper line, but minimum order size and print capabilities vary. Contact our sales staff for more information.
How creative can I get with my artwork?
We'd like to think the sky is the limit, but unfortunately it's not in this case. Short run food paper orders are limited to a basic step and repeat pattern of one or more logos or a full page pattern design that is step and repeated down the paper before cutting. Our talented art department will work closely with you to come up with a creative solution to any brand design challenge.
---
Need a price quote on custom printed Coated Kraft Paper? Contact us today!
Call 800-957-4286 or submit a Contact Form for prompt reply.

Let Gator Paper help your business "TAKE A BITE OUT OF THE COMPETITION!"
Need a printed food service sheet that can protect food in the freezer for up to one year? Then look no further than our custom printed Freezer Paper.
This coated heavyweight sheet will exceed even the toughest critics expectations.