Questions about Custom Printed Packaging? Call: 800.957.4286
Custom Printed Souvenir Cups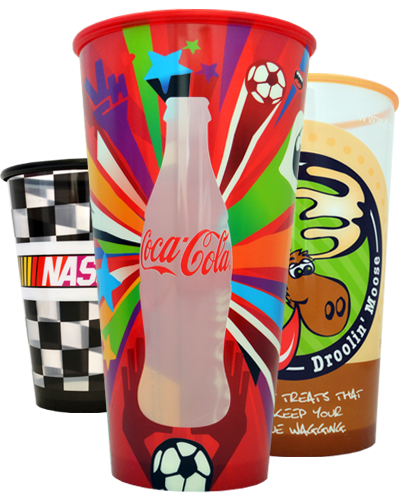 Souvenir cups are popular items sold at events, theme parks, stadiums, tourist attractions, and gift shops. These cups serve as souvenirs, mementos, or keepsakes for visitors, allowing them to remember their experiences or visit a particular place. Souvenir cups come in various sizes, shapes, and designs, often featuring logos, artwork, or images of the location or event.
Here are a few critical points about souvenir cups:
Purpose: Souvenir cups are a tangible reminder of a specific event, place, or experience. They are often used to hold beverages, such as soda, water, or beer, during the event or as functional items afterward.
Design and Features: Souvenir cups are made of durable materials like plastic, glass, or ceramic. They can come in different sizes, ranging from small cups to large tumblers. The designs on the cups can vary widely, including the name or logo of the event, attraction, or brand. Some souvenir cups may have additional features like lids, straws, or handles.
Collectible Items: Souvenir cups can be collectible items for enthusiasts who enjoy gathering souvenirs from different places or events. Some people make it a hobby to collect cups from various locations, and they may seek out rare or limited-edition designs to add to their collection.
Promotional Merchandise: Businesses, organizations, or event organizers often use Souvenir cups as promotional merchandise. The cups can be customized with branding elements and distributed to visitors or customers as advertising or marketing.
Sustainability: Recently, there has been a growing trend towards more sustainable souvenir cups. Many venues now offer reusable cups that visitors can purchase and reuse during their visits or subsequent visits. Reusable cups help reduce waste from single-use disposable cups.
Availability: Souvenir cups are typically purchased at the location or event they represent. They are commonly found in gift shops, concession stands, or dedicated merchandise areas. Some souvenir cups may also be available online through the venue's website or other retail platforms.
Souvenir cups are a fun and practical way for people to bring home a piece of their experience or memory from a specific event, place, or attraction. They can serve as functional items or decorative keepsakes that remind them of their good times.
Available in 12oz, 16oz, 17oz, 22oz, & 44oz sizes
Strong, durable & reusable
Dishwasher safe on the top rack
Perfect souvenir cup for any event!
4 color process printing
MINIMUM ORDER: 5,000 – 25,000 for the 44oz
LEAD TIME: 4-5 weeks
No rush orders.
No cheddar would taste better if it wasn't wrapped in our printed Cheese Paper!
I own a small cheese shop and can't afford to order 25 cases of Cheese Paper at a time, what do I do?
Don't panic. Ordering in smaller quantities eliminates the need for lots of storage room.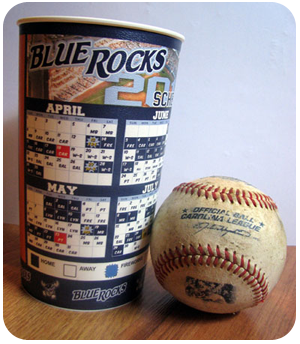 How can your lead time be 6-8 weeks when everyone else is 10-12 weeks?
Because they are slow and inefficient! Our goal is to get your printed Cheese Paper order delivered as quickly as possible. We work tirelessly to make sure our customer deadlines are met and the quality of our product will keep you coming back for more. If you need your order in a hurry ask one of our sales team members about our Rush Order program.
Standard Cheese Paper sheet size versus custom sheet size, how do I decide?
All of our food service sheets can be cut to any custom sheet size needed. Whether you are wrapping cheese wedges or wheels, we can cut our paper to any size needed to get the job done. We also offer a standard sheet list that will help keep your overall project cost down.
What are your printing capabilities?
Cheese Paper can be printed with up to 2 spot PMS colors. Sometimes, screen of either existing PMS color can be made to add the look of a third or fourth color. This sheet can also be printed on the coated and/or uncoated side of the paper. We can match any PMS color on the chart.
How creative can I get with my artwork?
We'd like to think the sky is the limit, but unfortunately it's not in this case. Short run food paper orders are limited to a basic step and repeat pattern of one or more logos or a full page pattern design that is step and repeated down the paper before cutting. Our talented art department will work closely with you to come up with a creative solution to any brand design challenge.
---
Need a price quote on custom printed Cheese Paper? Contact us today!
Call 800-957-4286 or submit a Contact Form for prompt reply.

Let Gator Paper help your business "TAKE A BITE OUT OF THE COMPETITION!"
Looking for the most versatile food service sheet on the market today? Then look no further than our custom printed Sandwich Paper. This coated, medium weight food service sheet is sure to exceed your highest expectations!