Conquer cheese storage with Custom Printed Cheese Paper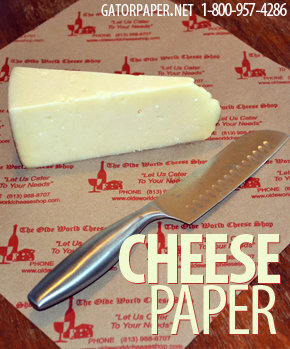 Try our new Custom printed cheese paper, part of Gator Papers top of the line wrapping paper. Use it when wrapping cheese products of all types. This coated cheese paper is great for dry cheese storage or cold cheese storage, while locking in flavor. Our cheese paper is made with a natural fiber along with being eco-friendly and biodegradable. Choose between White Kraft paper and Brown Kraft Paper finishes.
What more could a Cheese Retailer or grocery store ask for when serving great wrapped cheeses! Gator Paper provides Custom Printed Cheese Paper that's the perfect way to promote your brand name or new cheese business in gourmet markets and fine wine stores. Do you make your own cheese? Order our custom printed cheese paper to use for wrapping your specialty crafted cheeses. You can have your logo and contact information printed right on the paper. This way when people fall in love with your amazing cheese and they'll know who to contact for more!
Great for dry cheese storage or cold cheese storage
Custom Printed Cheese Paper locks in flavor!
Have a small business? No problem, Gator Paper can fill cheese paper orders in small quantities. Order a minimum of one case providing you with 2,000 sheets. Will cheese paper sheet rolls work better for your business and storage space? Order 3 rolls providing you 4,500 feet of paper. This way you can cut the paper to fit each cheese size you need to wrap. No matter what the cheese product or size, Gator Paper has the highest quality cheese paper to wrap it with!


MEDIA CONTACT: Chris Novak
Phone: 1-800-957-4286 (or) info@GatorPaper.net
www.GatorPaper.net

About Gator Paper:
Gator Paper is the #1 source for all your custom printed Food Service needs. Specializing in custom printed Sandwich Paper, Deli Paper, Butcher Paper, Hot Paper, Eco Kraft Paper, Cups, To Go Bags, Napkins, TO GO Boxes, Paper Food Boats and more. We offer the lowest minimums in the country on all of our custom printed products.
Gator Paper can help you develop your "brand" design or advertising concepts into custom packaging reality. From concept to delivery, Gator Paper is the short run custom printed food product leader. Take advantage of this powerful form of brand identification without breaking the bank! www.GatorPaper.net