Custom Printed Coated Kraft Paper (Sheets & Rolls)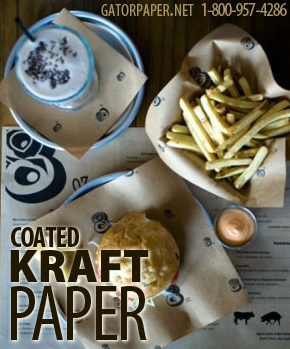 Come and see for yourself! Gator paper offers one of the strongest Kraft papers among all the food service supplies on the market. The new Custom Printed Coated Kraft Paper is surpassed by no other. This heavy duty coated brown Kraft paper sheet has a poly coated side that makes it the most durable Kraft paper available. This paper's wet strength is perfect for wrapping greasy foods like burgers, meat sandwiches, seafood and more.
Order the King of all Kraft papers and see for yourself. While ordering, be sure to send your logo and have it beautifully printed right on the paper. There is no better way to serve your delicious food than serving them on custom printed packaging. Send Gator Paper your custom logo and let our design team discuss what we can do for you. With our PMS color technology, we can screen most all logos on to the grand coated brown Kraft paper.
custom printed coated Kraft paper
Poly coated side makes it durable!
Perfect for wrapping greasy foods!
Best of all, this quality food packaging Kraft paper has no limit in size. Gator Paper does offer a list of standard sizes to help customers save on paper costs, but we can also custom cut the sheets to fit your needs. Custom sheet sizes are perfect for large markets wrapping large quantities of meats and seafood. And of course with your custom printed logo presented on the coated Kraft paper customers will return time and again to order your great foods wrapped in the paper that holds all the juices and freshness in. Check out our website to learn all about our Custom printed natural coated Kraft paper. We know our great paper will make you a fan for life!


MEDIA CONTACT: Chris Novak
Phone: 1-800-957-4286 (or) info@GatorPaper.net
www.GatorPaper.net

About Gator Paper:
Gator Paper is the #1 source for all your custom printed Food Service needs. Specializing in custom printed Sandwich Paper, Deli Paper, Butcher Paper, Hot Paper, Eco Kraft Paper, Cups, To Go Bags, Napkins, TO GO Boxes, Paper Food Boats and more. We offer the lowest minimums in the country on all of our custom printed products.
Gator Paper can help you develop your "brand" design or advertising concepts into custom packaging reality. From concept to delivery, Gator Paper is the short run custom printed food product leader. Take advantage of this powerful form of brand identification without breaking the bank! www.GatorPaper.net