Custom Printed Freezer Paper (Sheets & Rolls)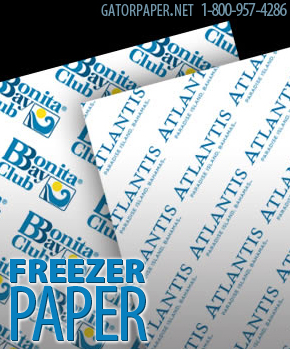 Look out freezer bags a new freezer protection champion has arrived! Gator Paper presents their custom printed freezer paper, now part of their quality line of food packaging supplies. This custom printed freezer paper is everything you need to protect your foods from freezer burn and loss of freshness. No matter the cold storage conditions our freezer paper will protect your precious meats, poultry, vegetables and more for up to 1 year! This heavy coated white sheet has a thick poly coating helping to protect foods against freezer burn while locking in freshness.
This paper also has enormous wet strength, keeping juices and freshness in even among freezing storage conditions. Finally a food service product able to hold up amongst the harshest conditions! Plus this paper can be custom printed with your logo presented all over the paper. What is more, this paper's colors will not run! Whether you need to wrap dry or wet foods for long cold storage, your logo will remain beautifully printed on the paper and not bleed on to the food.
Cold Storage Freezer Protection!
Perfect for wrapping meats!
Gator Paper can supply you with custom printed paper sheets by the case or the roll. The minimum order is 3 cases of 3,000 sheets or 5 rolls of 900 feet per roll. With sizes like these you will have no issues with storage space! Of course Gator Paper can also provide custom printed sheet sizes to fit any length and width you desire. Check out their website and read all about what Gator Paper can do for you. Send over your logo and let their design team present your custom logo on their coated Freezer Paper.


MEDIA CONTACT: Chris Novak
Phone: 1-800-957-4286 (or) info@GatorPaper.net
www.GatorPaper.net

About Gator Paper:
Gator Paper is the #1 source for all your custom printed Food Service needs. Specializing in custom printed Sandwich Paper, Deli Paper, Butcher Paper, Hot Paper, Eco Kraft Paper, Cups, To Go Bags, Napkins, TO GO Boxes, Paper Food Boats and more. We offer the lowest minimums in the country on all of our custom printed products.
Gator Paper can help you develop your "brand" design or advertising concepts into custom packaging reality. From concept to delivery, Gator Paper is the short run custom printed food product leader. Take advantage of this powerful form of brand identification without breaking the bank! www.GatorPaper.net