Prevent grease leak out with Custom Printed Fry Paper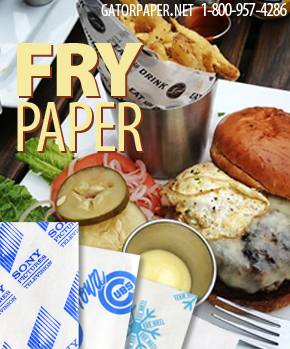 The best ever Custom Printed Fry Paper is here! Every restaurant owner is looking for a better way to serve foods while locking in flavor without grease leaking out. Now look no further. Gator Paper's new custom printed fry paper is the perfect paper for food presentation with no problems. This new Fry paper will hold up and assist your company with all of your food packaging supply needs.
Our fry paper is rated the best product for juicy foods. Not only will our custom printed fry paper absorb moisture but it also provides strength to hold retain heat in wrapped foods. We offer our custom printed fry paper with additional coatings for those foods needing more paper strength.
Whether you serve French Fry baskets, use it for nacho plate lining, or fish and chip baskets, this paper will hold up your foods and eliminate any mess.
Lock in flavor & Prevent grease leak out!
Custom Printed Fry Paper
Available to Order Now
Do you have a one-of-a-kind food truck business or maybe a hangout beach shack serving delicious snacks? Well, Gator Paper is here for all your food service needs. Our fry paper will hold up, allowing you to serve your one-of-a-kind foods with added style. Send us your unique logo and we can have it printed right on the paper. Is your logo made with two shades of the same color? If so Gator Paper will discount your color price and give you two shades for the price of one! Just another way Gator Paper has your back.
Don't need a large order, again no problem. You can order one case for your business giving you 5,000 custom printed fry sheets. If you have limited storage space, check out our fry paper rolls. The fry paper sheet rolls are the perfect alternative and you can cut them to size in order to fit each type of food. Call us today to discuss your order and let Gator Paper be your businesses food package supplier!


MEDIA CONTACT: Chris Novak
Phone: 1-800-957-4286 (or) info@GatorPaper.net
www.GatorPaper.net

About Gator Paper:
Gator Paper is the #1 source for all your custom printed Food Service needs. Specializing in custom printed Sandwich Paper, Deli Paper, Butcher Paper, Hot Paper, Eco Kraft Paper, Cups, To Go Bags, Napkins, TO GO Boxes, Paper Food Boats and more. We offer the lowest minimums in the country on all of our custom printed products.
Gator Paper can help you develop your "brand" design or advertising concepts into custom packaging reality. From concept to delivery, Gator Paper is the short run custom printed food product leader. Take advantage of this powerful form of brand identification without breaking the bank! www.GatorPaper.net