Custom Printed Fry Scoop Cups: New & Now Available!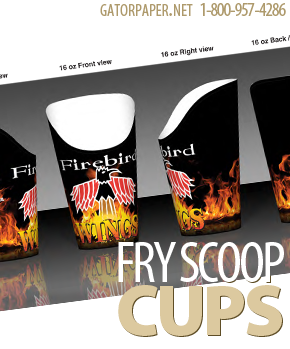 Gator Paper is pleased to announce the roll out of a brand new, one-of-a-kind product: the custom printed fry scoop cups.
Gator Paper has a new food packaging product to help your restaurant make food prep time a breeze! The new custom printed Fry Scoop Cups are the perfect food packaging product for your restaurant or food stand.
This one-of-a-kind product is made in the US and produced with single or double coated paper to handle both hot and cold foods.
No more grease spots or the frustration of filling flimsy bags or cartons. These Custom Printed Fry Scoop Cups are easy to fill, streamline food prep time and display your company's logo adding to the food service presentation.

Custom Printed Fry Scoop Cups:
Available to Order Now
The new Custom Printed Fry Scoop Cups are printed in full-color, high definition for the best brand display available. In the fast-paced food industry it is all about brand recognition and our Custom Printed Fry Scoop Cups are the perfect way to market your brand with the great food you serve. Our Fry Scoop Cups are also a good substitute for French Fry cups, chicken wing containers, chicken nuggets containers and custom food packaging. Fry Scoop Cups are an excellent product for serving your company's great foods.
Our Custom Printed Fry Scoop Cups are easy to fill, made strong to properly hold hot or cold foods and provide less mess for the customer. Along with the Custom Printed logo your food company is sure to be a hit with those you serve!
Visit our website for more information about our new Custom Printed Fry Scoop Cups. Ordering in bulk, no problem! Our website provides Fry Scoop Cup quantity information, Food Cup coated paper lining and Food Cup logo design information. Plus check out our other great food service supplies for food packaging and presentation. We are guaranteed to have what you need.


MEDIA CONTACT: Chris Novak
Phone: 1-800-957-4286 (or) info@GatorPaper.net
www.GatorPaper.net

About Gator Paper:
Gator Paper is the #1 source for all your custom printed Food Service needs. Specializing in custom printed Sandwich Paper, Deli Paper, Butcher Paper, Hot Paper, Eco Kraft Paper, Cups, To Go Bags, Napkins, TO GO Boxes, Paper Food Boats and more. We offer the lowest minimums in the country on all of our custom printed products.
Gator Paper can help you develop your "brand" design or advertising concepts into custom packaging reality. From concept to delivery, Gator Paper is the short run custom printed food product leader. Take advantage of this powerful form of brand identification without breaking the bank! www.GatorPaper.net