Custom Printed Goldenrod Paper (Sheets & Rolls)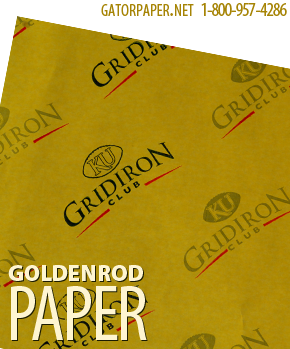 Look out! Dry wax paper will never be thought of the same way again. Once you try Gator Paper's custom printed goldenrod paper you will never buy another kind of dry wax paper, for there is no equal. This unique goldenrod paper is lightweight with a beautiful golden yellow base color. This food packaging supply paper is sure to catch the attention of every customer. To add to the flare, send us your logo and our talented design team will use PMS color technology to screen your logo right on the paper. Your logo will be unforgettable when displayed boldly on the golden rod paper.
Our bright golden wax paper is perfect for lining food baskets, wrap sandwiches, vegetable trays and much more. Along with the quality of paper this custom printed goldenrod paper is also eco-friendly. Customers love to know their favorite restaurant, food service truck or corner side café is environmentally conscious while serving delicious foods.
Add a little FLARE! The perfect dry wax paper!
Gator Paper also allows the goldenrod paper to be purchased as a short-run order. This means the minimum required purchase is one case of 5,000 sheets or 5 rolls of 1,000 feet per roll. This order quantity is perfect for storage space consolidation. Just another way Gator Paper demonstrates that customers come first. Most orders arrive within 6 to 8 weeks but priority shipments are available upon request. Contact our customer service department or visit our website to find out how you can order this unforgettable custom printed goldenrod paper today!


MEDIA CONTACT: Chris Novak
Phone: 1-800-957-4286 (or) info@GatorPaper.net
www.GatorPaper.net

About Gator Paper:
Gator Paper is the #1 source for all your custom printed Food Service needs. Specializing in custom printed Sandwich Paper, Deli Paper, Butcher Paper, Hot Paper, Eco Kraft Paper, Cups, To Go Bags, Napkins, TO GO Boxes, Paper Food Boats and more. We offer the lowest minimums in the country on all of our custom printed products.
Gator Paper can help you develop your "brand" design or advertising concepts into custom packaging reality. From concept to delivery, Gator Paper is the short run custom printed food product leader. Take advantage of this powerful form of brand identification without breaking the bank! www.GatorPaper.net