Remain's strong under high temperate, Custom Printed Hot Paper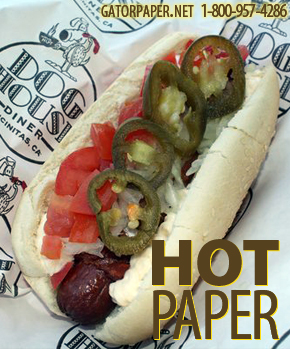 Our Custom Printed Hot Paper is here to solve your hot food product's package supply needs. Our custom printed hot paper is a unique product able to remain strong under high temperate exposure. This strong paper holds in warmth while absorbing juices without leakage. Gator Paper's custom printed hot paper is microwavable and oven safe up to 375 degrees. This allows you to reheat food without unwrapping the product. This makes our hot paper the best food service product out on the market. What a great substitute for foil wrapped food serving!
Send us your vector file, adobe file or high quality PDF file for custom logo printing right on the paper. The Custom Printed hot paper is the cool new way to promote your company's great logo, while people enjoy your wonderfully hot foods. You'll love this new custom printed hot paper! There really is no better way to serve steaming hotdogs, freshly cooked hamburgers, warm pretzels or specialty foods unique to your business. Food on the go, lookout! Your hot wrapping paper soul mate has arrived.
We love school's sports teams. At your next school's home game serve all concession foods wrapped in our custom printed hot paper with your school's mascot printed on the paper. Just the extra spirit to get your fans cheering all day. Go team!
Remain's strong under high temperate!
Custom Printed Hot Paper
Holds in juices without leakage!
Our custom printed wrapping paper is orderable by the case or roll. Order a 3 case minimum providing 6,000 sheets or 5 rolls for 5,000 feet of paper. Do not worry about storage space with our paper. The cases are compact and the rolls are easily storable. Plus with our paper rolls you can cut the paper to fit each food size you serve. Call us today or visit our website for more details on how you can build your order today. You'll become a fan for life!


MEDIA CONTACT: Chris Novak
Phone: 1-800-957-4286 (or) info@GatorPaper.net
www.GatorPaper.net

About Gator Paper:
Gator Paper is the #1 source for all your custom printed Food Service needs. Specializing in custom printed Sandwich Paper, Deli Paper, Butcher Paper, Hot Paper, Eco Kraft Paper, Cups, To Go Bags, Napkins, TO GO Boxes, Paper Food Boats and more. We offer the lowest minimums in the country on all of our custom printed products.
Gator Paper can help you develop your "brand" design or advertising concepts into custom packaging reality. From concept to delivery, Gator Paper is the short run custom printed food product leader. Take advantage of this powerful form of brand identification without breaking the bank! www.GatorPaper.net