Go Green with eco-friendly Custom Printed Kraft Paper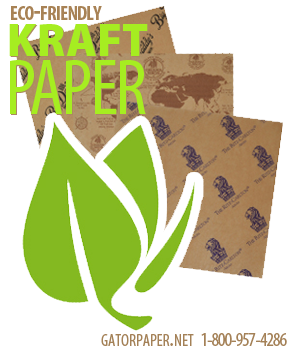 Be eco-friendly in style. This feather-light Eco Kraft Paper is just the right paper sheet to handle all of your food service needs while being environmentally proactive. Our Eco Kraft Paper is sure to please your eco-conscientious customers.
Gator Paper's custom printed Eco Kraft Paper is a compostable paper sheet able to handle your food presentation needs. Style your baskets with a natural look or customize your Eco Kraft Paper to display your brand name.
This paper sheet is the perfect way to draw brand recognition while serving your fabulous food items. Whether you wrap burgers, tacos, and sandwiches or use it as a liner, it will handle your food service projects!
Go Green with Custom Printed Kraft Paper
Available to Order Now
Ever think about hosting a party with a custom design or logo lining your food trays. Well look no further. We can print any design or logo right on the paper (pending rights and ownership). With our custom printed eco Kraft paper displaying your favorite logo or design, you'll be the envy of all party hosts. Go you!
Our Kraft Paper also comes in many different sizes. Though we do have standard size to choose from we can also cut the sheet size to any desired length or width. No matter what size your food needs we have you covered, literally!
This Kraft paper also allows for multiple color printing if your logo allows for it. Gator Paper can also provide your Eco Kraft Paper 5,000 sheet count cases or three 1,000 feet rolls. The thousand feet rolls are great for managing storage space. We can do just about anything you desire. So no need to look anywhere else! Review our frequently asked questions or call us today for information on how we at Gator Paper can make your business stand out in eco-friendly style with our Eco Kraft Paper.




MEDIA CONTACT: Chris Novak
Phone: 1-800-957-4286 (or) info@GatorPaper.net
www.GatorPaper.net

About Gator Paper:
Gator Paper is the #1 source for all your custom printed Food Service needs. Specializing in custom printed Sandwich Paper, Deli Paper, Butcher Paper, Hot Paper, Eco Kraft Paper, Cups, To Go Bags, Napkins, TO GO Boxes, Paper Food Boats and more. We offer the lowest minimums in the country on all of our custom printed products.
Gator Paper can help you develop your "brand" design or advertising concepts into custom packaging reality. From concept to delivery, Gator Paper is the short run custom printed food product leader. Take advantage of this powerful form of brand identification without breaking the bank! www.GatorPaper.net