Custom Printed Luncheon Napkins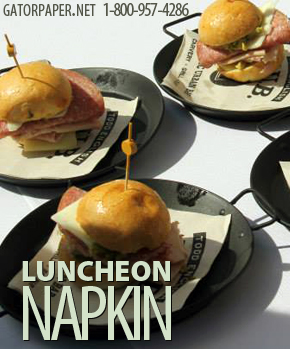 The next step up in paper napkins has arrived! Gator Paper's custom printed Luncheon napkins are a size up from the traditional beverage napkin. This cocktail napkin is 6.5" x 6.5" and is a great change from normal restaurant napkins. Serve your great food in style with luncheon napkins that accent your company's image. We can custom print your logo onto the napkins for excellent branding to along with your delicious food! Our unique luncheon napkins are available in white with a 4 color max PMS print technology. Let our talented design team review your logo and discuss what we can do for you.
The luncheon napkin is available to order in 2-ply or 3-ply tissue. The facial coin edge gives extra flare to the already stylish paper napkin. With the soft tissue feel and wetness strength your customers will take extras for tissue use long after dining. And of course, with your logo printed right on the paper no one will forget your restaurant!
Do you have a food truck or food stand? Consider changing from regular plain napkins to our custom printed luncheon napkins with your logo proudly displayed front and center. With an extra eye for detail your customers are sure to notice and come back for more!
Available to order in 2-ply or 3-ply
Soft tissue feel and wetness strength!
Check out Gator Paper's website for ordering options and information. Most paper napkin order arrive within 2-4 weeks but rush orders are available upon request. The minimum purchase order is 12,000 napkins but we are here to help you order what fits you best. Let our customer service department discuss all options and make you a fan of our products for life!


MEDIA CONTACT: Chris Novak
Phone: 1-800-957-4286 (or) info@GatorPaper.net
www.GatorPaper.net

About Gator Paper:
Gator Paper is the #1 source for all your custom printed Food Service needs. Specializing in custom printed Sandwich Paper, Deli Paper, Butcher Paper, Hot Paper, Eco Kraft Paper, Cups, To Go Bags, Napkins, TO GO Boxes, Paper Food Boats and more. We offer the lowest minimums in the country on all of our custom printed products.
Gator Paper can help you develop your "brand" design or advertising concepts into custom packaging reality. From concept to delivery, Gator Paper is the short run custom printed food product leader. Take advantage of this powerful form of brand identification without breaking the bank! www.GatorPaper.net