Custom Printed Natural Kraft Paper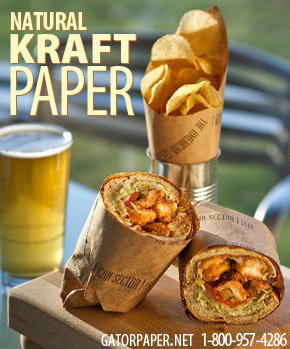 Wow, who knew natural Kraft paper could look so good? Well, it can and does! Check out the new custom printed natural Kraft paper brought to you by Gator Paper. This natural fiber Kraft paper is just one more of the stylish paper products in Gator Paper's product line of food packaging supplies. This natural fiber Kraft paper is perfect for wrapping foods such as cheeses, deli meats, breads, chips, even candies. Along with the classic natural fiber look, our
Kraft paper is eco-friendly and biodegradable. What an eco-friendly, business savvy strategy for you!
Show your logo proudly printed on the natural Kraft paper in which you serve your delicious foods. What better way to market your company than with great food packaging and your custom logo. We can print custom logos onto our quality paper using 2 spot PMS color technology. Let our design team review your logo and discuss what we can do!
Eco-friendly and Biodegradable
Natural fiber Kraft paper!
Need to same space among your food packaging supplies? Look no further, our great Custom printed natural Kraft paper can be purchased in cases or rolls. Minimum orders for cases is 3 cases of 3,000 sheets or 5 rolls of 3,500 feet of cuttable paper. Perfect for fitting your storage needs and fulfilling your food service needs. Just another one of the great ways Gator Papers helps it's customers!


MEDIA CONTACT: Chris Novak
Phone: 1-800-957-4286 (or) info@GatorPaper.net
www.GatorPaper.net

About Gator Paper:
Gator Paper is the #1 source for all your custom printed Food Service needs. Specializing in custom printed Sandwich Paper, Deli Paper, Butcher Paper, Hot Paper, Eco Kraft Paper, Cups, To Go Bags, Napkins, TO GO Boxes, Paper Food Boats and more. We offer the lowest minimums in the country on all of our custom printed products.
Gator Paper can help you develop your "brand" design or advertising concepts into custom packaging reality. From concept to delivery, Gator Paper is the short run custom printed food product leader. Take advantage of this powerful form of brand identification without breaking the bank! www.GatorPaper.net