Even. More. Fries. Introducing Our New 24oz Fry Scoop Cup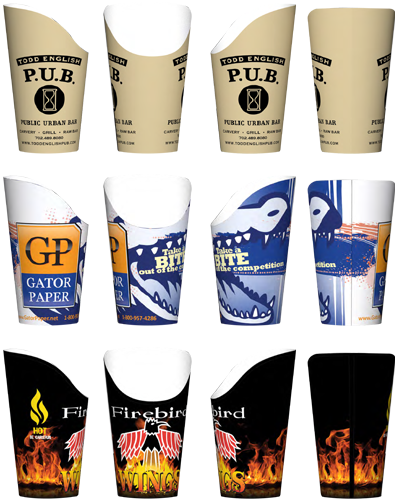 What's even better than 16oz of hot, crisp fries? 24oz of them! In 2015, Gator Paper has resolved to continue rolling out new additions to our customizable line of food service products.
Now Available 24oz Fry Scoop Cup
Fry Scoop Cups are a one-of-a-kind food service item available in both single or double coated paper for hot or cold applications.These handy products are easy to load, easy to serve and do a great job of keeping food bags fresh and tidy.Take prep and presentation to the next level with a product that make sense for your busy establishment.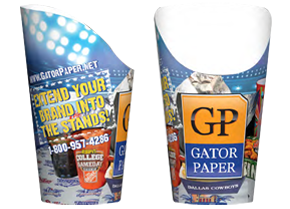 • Available sizes: 16oz and 24oz
• Double and single coated cups available
• Perfect fry cup for any size restaurant!
• 4 color process printing
• High defintion
• High gloss or matte finish
• Low 1000 piece minimum order
• Full clolor and full coverage available
If you're looking for ways to boost efficiency, minimize cost and advance your brand in the New Year – here's one big way to get it done. Explore Gator Paper's custom printed fry scoop cups and more at https://gatorpaper.net/custom-printed-fry-scoop-cups/.
MEDIA CONTACT:
Chris Novak
Phone: 1-800-957-4286
Website: www.GatorPaper.net
Email: info@GatorPaper.net
About Gator Paper:
Gator Paper is the #1 source for all your custom printed Food Service needs.  Specializing in custom printed Sandwich Paper, Deli Paper, Butcher Paper, Hot Paper, Eco Kraft Paper, Cups, To Go Bags, Napkins, TO GO Boxes, Paper Food Boats and more.  We offer the lowest minimums in the country on all of our custom printed products.
Gator Paper can help you develop your "brand" design or advertising concepts into custom packaging reality. From concept to delivery, Gator Paper is the short run custom printed food product leader. Take advantage of this powerful form of brand identification without breaking the bank! www.GatorPaper.net