What's 12, 16 and 21oz and Read All Over?
Our Custom Printed Cups in the Hands of  Your Customers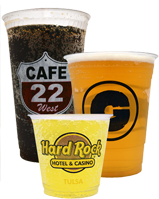 Gator Paper is pleased to announce new additions to our customizable cup line. We're now offering 12, 16 and 21 ounce cup size options to give you even more flexibility in your branding efforts.
Now Available
9oz   12oz   16oz   17oz
20oz   24oz   32oz   44oz
Every organization is different with different needs. We make it easy for you to get exactly what you want for your unique operation. Create your own marketing masterpiece today by choosing your cup size, design, quantity and level of marketing impact. We'll work with you to perfect your opportunity to gain the most possible impressions in-store and beyond.
All cups are durable, high quality products available in hi-definition, full-color print. We offer a variety of cup types to satisfy a wide range of needs: Clear Plastic PETE Cups, Cold Paper Cups, Hot Paper Cups, Clear Plastic VS Cups and White Plastic Cups.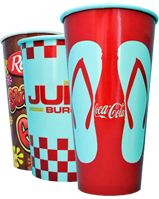 Along with our customizable line of reusable and single-use cups, enjoy the convenience of high quality lids designed to compliment your cup without taking away from the printed design. Gator Paper's expertly constructed Thermo-formed lids are reliable, high performing and available in a variety of options.
Enjoy all the power of brand recognition that comes from placing your logo in the hands of your customer through a custom printed cup. With our competitive pricing, industry-leading print standards and lowest minimums in the country, choosing Gator Paper is always a great deal. Get started with your order today by calling 1-800-957-GATOR or Requesting a Free Price Quote.
MEDIA CONTACT:
Chris Novak
Phone: 1-800-957-4286
Website: www.GatorPaper.net
Email: info@GatorPaper.net
About Gator Paper:
Gator Paper is the #1 source for all your custom printed Food Service needs.  Specializing in custom printed Sandwich Paper, Deli Paper, Butcher Paper, Hot Paper, Eco Kraft Paper, Cups, To Go Bags, Napkins, TO GO Boxes, Paper Food Boats and more.  We offer the lowest minimums in the country on all of our custom printed products.
Gator Paper can help you develop your "brand" design or advertising concepts into custom packaging reality. From concept to delivery, Gator Paper is the short run custom printed food product leader. Take advantage of this powerful form of brand identification without breaking the bank! www.GatorPaper.net